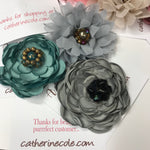 I love creating from vintage and obsolete items! Today I made corsage pins from vintage earrings.   Making something old and discarded  new and beautiful is very rewarding  and great therapy!  I was given a bag of  vintage jewelry from the 60's and have been waiting to find the perfect upcycle.
Today a made a "crop" of flower corsage  lapel pins to give as "surprise" gifts for my customers.
   Want to make a crop of these flower pretties? It's fun and super easy!
   I found that the clip on earrings worked the best. You can find them super cheap at thrift stores.  I just snipped off the back earring metal clip with a wire cutter or needle nose plier.
     I purchased silk flower blooms online and at Michael's, I also purchased  girls flower headbands and cut off the elastic.
 I picked up pin backs at Walmart, 40 pins for $3. Hot glued them to the back and then hot glued  a piece of ribbon on top of the pin to make more secure.
Hot glue the earring or jewelry piece to center of flower and you are done!
Great gift for Mother's Day, use them as a gift bow.  Pin them on your winter coat, knit poncho, anything! I love to wear hats so I pin them on my felt berets, I get sooo many compliments.
Happy Creating!
xoxo
Catherine